We've been burning lots of firewood thanks to winter firing both barrels at us and needed a better indoor storage place than the metal log rack we'd been using. Steve was able to get a large wooden shipping crate. It's a little larger than I anticipated, but it's been keeping the mess of wood shrapnel contained and holds a couple days worth of firewood.
We wanted it to have a rustic/weathered look and heard from a friend about "staining" wood with a mixture of vinegar and steel wool. We happened to have everything we needed on hand, so we gave it a go. After consulting a few youtube videos, it didn't seem to be a precise science, so we filled an old 32 oz. yogurt container about 3/4 full of white vinegar and put a couple pieces of steel wool in to soak for a couple days. Then we just brushed it on with an old paint brush.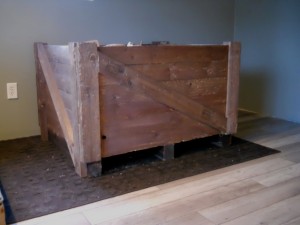 It took a few minutes to react, but it turned out pretty well. The color almost matches the floor and we'll likely use this method to "stain" the trim around the floor and windows when we get to that stage.