We've had this large white board occupying half of our dining room table for several weeks because it's really heavy and I don't know where to put it, though it would be nice to have it centrally located where it can be used by all. One day I was surprised to find that Cale had left his mark and I didn't dare erase it. (Plus, I was impressed with his handwriting!) I first took a picture of Cale's greeting & countdown when it said "12 days until Christmas," intending to post something like I did last year. Well, 9 days have apparently passed me by, so I thought I better do something before the board is erased and my chance at using it as a Christmas "card" is gone.

Generally, I like to look back through photos to get ideas for a Christmas card. In doing so, I realized I didn't take many pictures these last few months and decided not to make/send out cards this year, so Cale's whiteboard art will have to suffice. I did find this photo of snow hanging on the electric fence wires that I took because it looked like an abacus (my first thought) or I suppose beaded garland fits the season better. It reminds me that the snow makes the forest look festive.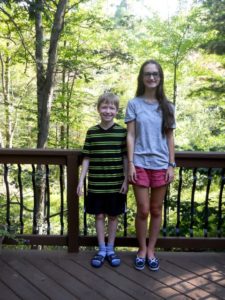 The kids both moved up to new schools this year, with Natalie (15) starting high school and Cale (10) at the intermediate school. Natalie still loves music (busy with choir, piano, and now also plays keyboard with our church band on Sunday mornings) and Science Olympiad. She also just got her driving permit! Cale started choir this year, got hooked on being in theatre productions, and is still involved in karate.
We currently have 12 hens that give us an interesting variety of eggs. Several are taking a break with the
 shorter daylight hours and/or deciding to molt during our recent cold stretch (not the best timing!), but hopefully they will ramp up again soon. We never have a shortage of eggs with anywhere from 3 to 5 dozen in our fridge at any point in time. Still, I really want to get a dozen eggs in one day!
One of Cale's highlights was getting the chance to be part of the children's choir in the high school production of Joseph and the Amazing Technicolor Dreamcoat. He's still singing the songs over a month later! He was bitten by the theatre bug during the summer when he got to play Mufasa in the Lion King Jr.

Speaking of theatrical productions, we got Natalie tickets to Wicked for her birthday and went to see it the day before Thanksgiving. I actually didn't know much about the show other than hearing all the hype, and I was pleasantly surprised at the storyline and performance.
Steve is currently preparing to go to Haiti soon with a group from our local church to help with rebuilding after the earthquake. I'm kinda-sorta looking for a job and trying to figure out what I want to be now that I'm grown up.
As 2016 ends, I am thankful for the start of a new year and new beginnings.  -Jen